Dear Friend,
Many precious metals investors over the years have closely followed the writings of David H. Smith, the beloved Senior Analyst at The Morgan Report and monthly columnist for Money Metals Exchange.
I am saddened to report today that my friend… our friend… David Smith lost his battle with cancer last weekend.
David H. Smith,
Money Metals columnist
David was a phenomenal yet humble man. He was a teacher, a student, and a philosopher.
I have rarely a met a more optimistic, thoughtful, and wise person.
He was not just a pithy writer who informed and guided his readers, he was a trusted advisor to me personally.
I sought and received David's feedback and counsel all along the way as I strived to build Money Metals Exchange into the top precious metals dealer in the United States.
Born in in West Virginia, David H. Smith grew up on the Olympic Peninsula in Washington State where he developed his love for martial arts, fishing, and the outdoors.
After retiring from a 29-year career teaching 7th graders, he focused on precious metals and investing. David investigated precious metals' mines and exploration sites in Argentina, Chile, Peru, Mexico, Bolivia, China, Canada, and the U.S.
He also fished the great rivers of North America and Patagonia, where he felt most at home. He is survived by his two children Rachel and Steven.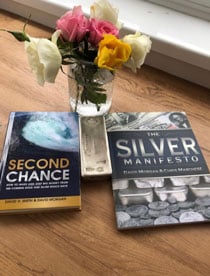 David recently snapped this
photo of his book Second Chance
and other valued items.
David was deeply knowledgeable about the precious metals markets and the mining sector, and for the past 10 years he shared his insights with our Money Metals readers – and 20 years for subscribers of The Morgan Report published by the great David Morgan.
David was able to pen his last column just two months ago. Some of you may have noticed that it read like a goodbye.
His writings will live on at MoneyMetals.com. In particular, I invite you to read what may be the most profound, timeless, and useful article David Smith ever wrote for us. It begins with the excerpt below.

Stefan Gleason, President
Money Metals Exchange
Fast-Forward Your Profits with This "Secret Investment Tool"
By David H. Smith
I'll bet you'd like to know upfront just what this "investment tool" really is. So that you could immediately put it to work in the markets in order to begin growing your investment nest egg.
Indeed, it is so powerful that if you become skilled in its use, you may one day find yourself at the pinnacle of financial success in relation to just about anyone else you know.
The "greens" on your portfolio can start outnumbering the "reds" several times over. You may even become an investing legend – writing a book about your success, standing the test of time, that people for generations will want to read.
A few people like Jesse Livermore (Reminiscences of a Stock Operator), Sir John Templeton (Golden Nuggets), Charles Mackay (Extraordinary Popular Delusions and the Madness of Crowds), and Jim Rogers (Investment Biker: Around the World with Jim Rogers) have done just that.
On the other hand, what if you use this device carelessly, get overconfident and let some "really good trades" make you think you've found the "perfect system" to outsmart Mr. Market?
In reverse, it has the power to ruin your investment results and create enough stress to bend out of shape the really important things in your life.
This "secret investment tool" is explosive, both literally and figuratively. It's a concept similar to what Mike Tyson's trainer once said about fear: "It's like fire. It can cook for you. It can heat your house. Or it can burn you down!"
Given where we are now in the resource sector bull market mega-cycle, especially in relation to the "Precious Metals Four" – Gold, Silver, Platinum, and Palladium – the timing of getting this information into your hands to think about and perhaps act upon could not be more important.
The Secret Investment Tool Is… Your MIND
Believe it or not, how a person develops, controls, and uses their mind will be the biggest determinant in whether or not they ever become, let alone continue to be, a successful investor.
In this report you will learn some very important things involving the markets, the outside world, and what drives everything related to them – but most important, about yourself – and something about me as well.
You see, in spite of all the years I've been investing and trading the markets – futures, physical metals, mining stocks, the general stock market, real estate, and other forms of investments – I have not "perfected" the handling of this tool. And I never will!
But I've come a long way on my own personal journey. As a life-long learner, I will continue to shape, mold, and seek to control this tool in order to improve my investing success for as long as I choose to "play the game."
Understanding, reflecting upon, and applying certain skills will help you attain a much higher level of investing success than you now think is possible.
In the process, you can start making better buy, hold – and sell decisions than most other investors in today's volatile markets.
Don't think for a minute when you take a position, whether it's in a mining stock, an Exchange Traded Fund (ETF), the physical precious metals, or another type of investment, that you are involved in some kind of playful activity with gentleman's rules where people "just get along."
No, my friend, the truth is much, much different… [Read more here…]